Making a living in voiceovers
______________________
Private one-on-one voiceover coaching with a seasoned professional will take your career to another level!
The world of voiceovers is constantly growing and changing, and the opportunities are abundant, if you know where to look.
Whether you're just starting out or you're a working actor, Leslie Gray Robbins is the perfect choice as a voiceover coach. She has an inside view of what clients are looking for because of her past work as a talent agent – this valuable perspective is hard to find in a coach!
Drawing from her 20 years of experience as a voiceover talent, Leslie will help you perfect your skills, learn how to analyze copy, and give you newfound confidence in your own abilities.
She also believes in telling it like it is. You can trust that she will always be honest with you, and will offer you positive criticism in the spirit of building your booming voiceover career. Not only will she help you identify what you're doing wrong (and what you're doing right), but she offers insights about how to get an agent to actually listen to you, and how to approach the business so you're taken seriously.
Once you both agree that you are properly prepared to start pounding the pavement to get paying jobs, she will produce and direct your custom voiceover demo in a professional sound studio. Call or email for detailed pricing… and don't fear that you are now going to be on your own!
As your coach, Leslie will advise you on how to get your demo into the correct hands, share the agents who MUST receive your demo submission (and you'll discuss the best and most effective way to get it into their hands!), and she'll even help you tailor your cover letter to make the best possible first impression.
Client testimonials:
"Even though I knew it was a perfect fit for me, the thought of entering a new industry and pursuing a career in voiceover work was extremely intimidating. Then I met Leslie. From the first time I reached out about coaching through the production of my finished demo, she was amazing. Her knowledge of the industry and her easy going attitude made her a perfect teacher, mentor and friend. She was (and still is) always available in and out of sessions for questions or a chat, and made my entire introduction to the voiceover industry seamless. It's easy to see that she genuinely wants her students to succeed. I am very fortunate to have worked with her and look forward to working with her as far into my career as she'll let me!" ~Allie Plansky
"Leslie is absolutely fantastic. You could not ask for a more experienced, energetic, confident guide than her. From the very first session, I felt like I was with the right person. She obviously had the experience to be a voiceover coach but also, as a working professional and as a former VO talent agent, she had all of the business guidance I needed to make my new venture successful. I could not recommend Leslie more. I owe her a great deal." ~Phil Ryan
"Leslie is an amazing coach that helps bring out the most in your voice. When I walked in, I wanted to work towards making a voiceover demo and she helped me make it there. Everything she taught me prepares me for auditions and working in the voice over booth. I learned a variety of things- from how I should act, to industry specific terminology, to a number of different ways to use my voice and bring out the best in the script. We put together a demo that floored my agency. I could not ask for a better teacher." ~Sebastian White
"LGR is an exceptional coach. I absolutely loved working with her. Leslie taught me the ins and outs of the industry and prepared me for the professional competition I would encounter as a VO artist. She also helped me understand my strengths and weaknesses as an actress so I can continue to hone my craft. On top of her skill and incredible resume, she really cares about her students. I highly suggest working with her if you get the opportunity. Your approach to acting will never again be the same." ~Jessica Limardo
"Leslie is a phenomenal coach who excels at working with individuals to not only help you craft & improve your performance abilities, but also to help get you comfortable in a studio setting and learn the business so that you're able to hit the ground running. She legitimately cares about the people she works with and wants to set them up for success. With a very strong background of work, she's more than qualified to be passing on this information, and any person that wants to take Voiceover seriously would be lucky to have Leslie coach them through and prepare them for the competitive career. I always felt challenged but not uncomfortable – I had a space where I could screw up and try new things and take my skills to the next level!" ~Sterling Matthew Oliver
"Thank you so much for your time and efforts with me during this process! You made the work fun, while helping me understand what I should expect an actual job would be like. You pushed me with material that was beyond my comfort zone, but ensured that we were also exploring things that I would realistically be considered for. There was a great balance of acting technique, understanding the technology, and how to navigate the world as a Union OR non-union actor." ~Emily DeKanter
"Knowing nothing about Voiceover, but having people tell me my whole life I should be doing this type of work, I set out to find a coach. Luckily I just happened to find Leslie from a Google search. So happy I did! What she has taught me about agents, clients, the Voiceover business, recording settings and the types of directions that can be given in a recording session has given me a big insight into this vocation. I would have been completely lost without her guidance. Her help has been invaluable! I would recommend to anyone seeking to get into this business or those who have been in it to engage her services. She is awesome!! ~Ty Eden
"I came to Leslie with no knowledge of the voiceover industry, and now feel both prepared and confident. Leslie is wonderful at pointing out and perfecting any strengths, while challenging any weaknesses so you can offer a wide range of styles as a budding VO Artist. I also have a much better understanding of the industry, audition process, and expectations from agents and clients. I would highly recommend Leslie to anyone – whether a beginner or someone wanting to hone their craft." ~Caitlin Simone
"Before I met Leslie, I was feeling lost and I didn't really have a plan regarding my voice over training. With two little kids at home, Leslie worked with my schedule to develop a plan to reach my goal of creating a demo. Always pleasant and approachable, I looked forward to every script rehearsal session. I appreciated her positive outlook and her ability to provide constructive criticism in the kindest way possible. I'm proud to say that Leslie produced an amazing demo and I'm excited to start looking for representation! Thank you Leslie!!! ~Katelyn Andresen
Get your journey started! Schedule your first coaching session today by clicking the link below:
ABOUT Leslie Gray Robbins
For over 20 years, Leslie Gray Robbins has been delivering top-notch performances, both on-stage and in the recording studio, for happy clients all across the United States and Europe.
Her newest national campaign playing on TV and radio is for the pharmaceutical Enbrel, featuring golfer Phil Michelson. She is thrilled to continue her work with Disney on many of their wonderful children's books, including Mickey Mouse, Frozen, and Beauty & the Beast.
Her voice has been used by such esteemed clients as Capri Sun, Ghirardelli Chocolate, Travelocity, Blue Cross Blue Shield, Philip Morris, DePaul University, Sears, Walgreens, Oberweis Dairy, Hampton Inn, Abbott Labs, Allstate Insurance, Woodfield Mall, American Egg Board, Kaiser Permanente, General Growth Properties, Visual Freedom Center, Ryland Homes, Physician's Body Sculpting Centers, Adventist Hospitals, and many more!
People often ask me for recommendations when setting up their home studio, so I have created a list below.
RECORDING EQUIPMENT THAT I RECOMMEND:
*Avid Pro Tools editing software: $599 from Avid.com (or $29.99 a month)
*Rode NTG2 Multi-Powered Condenser Shotgun Microphone: $269 from Sweetwater
*RODE PSA 1 Swivel Mount Studio Microphone Boom Arm: $99 from Sweetwater
*Shure SM58-LC Cardioid Dynamic Vocal Microphone: $99 on Amazon
*IK Multimedia iRig Mic Cast podcasting mic: $29.99 from Sweetwater (terrific for on-the-go auditions!)
*Aokeo Professional Microphone Pop Filter Mask Shield, Mic Dual Layered Wind Pop Screen With A Flexible 360° Gooseneck Clip Stabilizing Arm: $10.99 on Amazon
*Manhasset Model #48 Sheet Music Stand: $41.99 at Guitar Center or Amazon
*SHW Electric Memory Preset Height Adjustable Computer Desk, 48 x 24 Inches, Black:  $195 on Amazon
MORE RESOURCES
Chicago is such a wonderful city in which to build a career, and I'm grateful for all of the many people that helped me along the way. Value those relationships – they are everything! I also love how Chicago actors support one another, and in this spirit, I will be sharing some links to colleagues in the business that I know you can trust. Do your own research and find the person with whom you connect. I'd be happy to meet and see if that person is me, but if location or some other factor lead you somewhere else, here are a few suggestions:
Darren Stephens: http://www.voiceoverstudiochicago.com/ Darren and I have worked together on voiceover projects and film projects and he's just an all-around good guy with enormous talents. Check out his informative website.
Acting Studio Chicago: https://www.actingstudiochicago.com/adult-acting-classes/voiceover/beginning-voiceover Check out classes led by my friends and colleagues here. Norm Boucher, Dave Leffel and Jeff Lupetin are all fantastic guys with mega talent, both as voiceover talent and as coaches. These guys know what they're doing and have the work to back it up.
Grossman & Jack Talent: http://grossmanjack.com/ Just the best darn Union talent agents a girl could ever ask for! You'd be so lucky to be a part of their family.
Chicago Talent Network: https://www.chicagotalentnetwork.com/ Chicago's newest Non-Union agency has some of the most talented and kind agents around! This would be a wonderful place for you to start.
Stavins Enterprises:  http://www.karenstavins.com/  This is where I started when I moved back to Chicago in 1997, both as a talent and as a talent agent.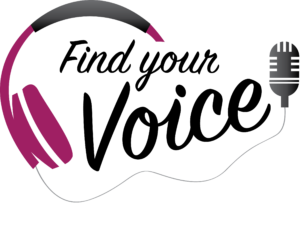 Find Your Voice is thrilled to be offering voiceover workshops!
WHEN: Saturday, November 12th, 2022
TIME: 11 am – 1 pm
The fee for the 2 hour workshop is $149
In this workshop, students will learn techniques for interpreting copy, as well as tricks of the trade that will make it spring to life. You'll also have the opportunity to meet other actors and learn from their approach, and we'll work on some dialogue together. Everyone will get plenty of time on mic, and I'll send files of your work after class so you can continue to learn at home.
Your coach for this workshop is Leslie Gray Robbins, who has been a working voiceover actor for over 20 years. She has been heard as the brand voice for Ghirardelli Chocolates, Enbrel, Cellcom, Travelocity, and Hampton Inn.
Leslie will skillfully guide you in exploring different deliveries and challenge you to step outside of your comfort zone and expand your abilities. Leslie teaches students exactly what it takes to maintain a career in a very competitive field.
Leslie also offers one-on-one coaching for those who might prefer a more intimate learning experience, as well as full demo production services. Click here to learn more: www.lesliegrayrobbins.com
---